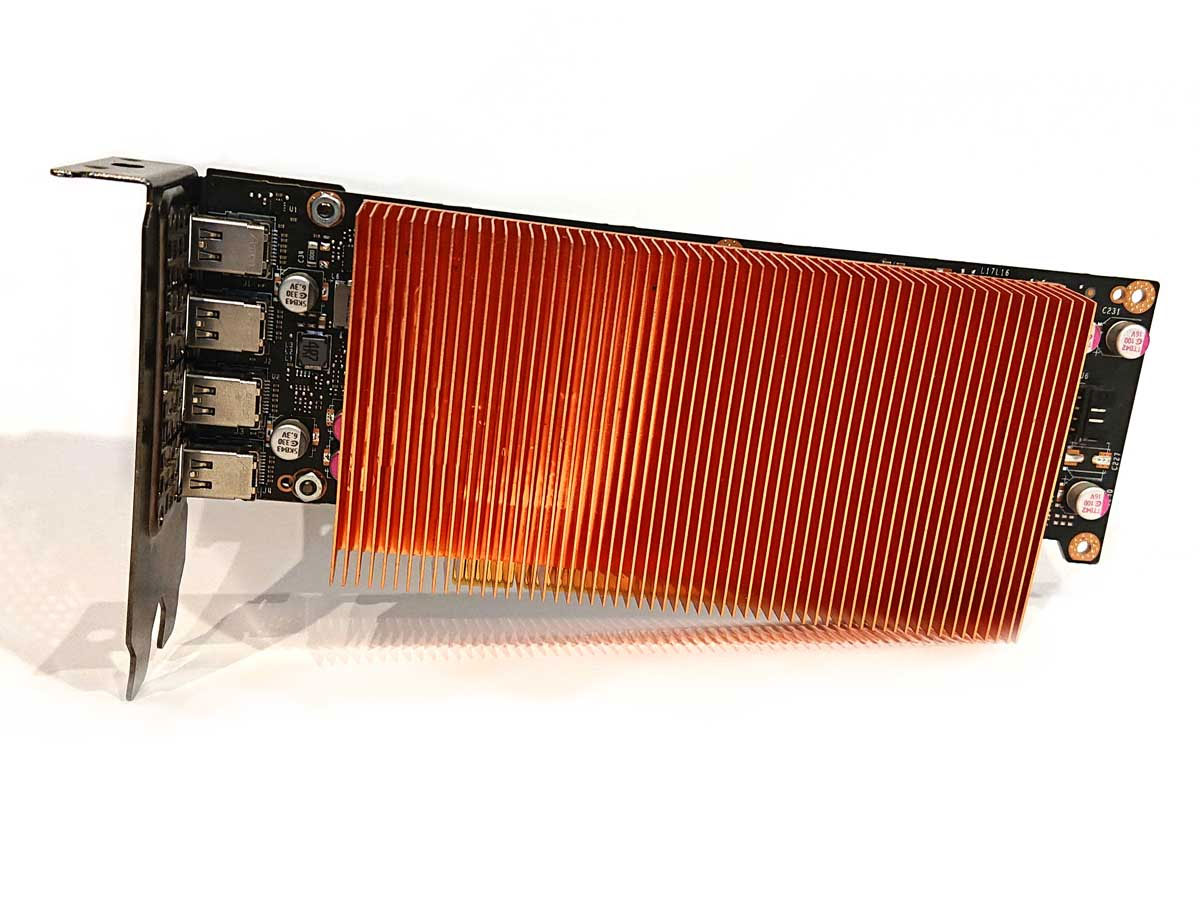 RTX A2000 heatsink
RTX A2000 heatsink
This copper heatsink replaces the noisy stock Nvidia RTX A2000 cooler and is compatible with the two 60mm fans. It is both quiter and cooler than the stock Nvidia RTX A2000 cooler.
B-stock units have some milling errors or mistakes or imperfections but otherwise function and perform the same as a regular unit.
Important: this product is made to order, lead time is 2-3 weeks.
Are you annoyed by the noisy Nvidia RTX A2000 cooler?
I know I was! Aiming for a solution that was inaudible under load, I came up with this copper heatsink. It used the stock mounting system but replaces the tiny heatsink with a large copper radiator.
Just add two 60 mm fans of your own choice. If you want to stay within the 2-slot design, take 10 mm thick fans. If you have more clearance, like the Yocto provides, the best option is double Noctua fans.
It's not just quiet, it's cool!
Not only the acoustics benefit a lot from swapping to this heatsink and proper fans, the thermals also do. With the dual Noctua fans, the card will not go above 68C with the cards spinning at a mere and inaudible 1800 RPM.
The heatsink also comes with much better quality thermal pads, which keep the memory up to 20C cooler.
This gives a lot of headroom for overclocking or even shunt-modding the card.
Specifications
Material: 100% pure copper
Dimensions: 120mm x 60mm x 20mm
Weight: 450 grams
Included:
- Mounting screws for the heatsink and PCI bracket
- Thermal pads for the memory
- T6 and T8 screwdrivers to replace the heatsink
Motherboard compatibility: Mini ITX or PCIe riser only
Fan compatibility: two 60mm fans.
With 10mm thick fans, the card stays within 2 slots
With 15mm thick fans, the card will be 2 slots + 2mm
With 25mm thick fans, the card will be 2 slots + 12mm
Advised 25mm fans: Noctua NF-A6x25, Noiseblocker BlackSilent Pro, SilverStone FTF 6025
Advised 15mm fans: Gelid Silent 6
Advised 10mm fans: Evercool EC-6010, StarTech.com 60x10
It is recommended to connect the fans to your motherboard rather than the card fan header, because it has a minimum RPM of 3000. Fan speed can be controlled by software like Fan control.
Use this heatsink at your own risk, I cannot be held responsible for damage to your card during installation or usage of this heatsink.
Case compatibility
This heatsink is developed for the Yocto case but can be used in many other cases. The Yocto has its own mounting holes for the fans, so you will have to find a way to mount them in a different case. Double sided tape, tie wraps or friction fitting between the case and heatsink all work well.
Here are some of the popular low profile cases that are compatible with this heatsink:
25mm thick fans
Silverstone ML06-E
Silverstone ML09
Lazer3D CG7 Cravo
J-Hack Stratos X
J-Hack Pure MK2
ZS Cases ZS-D2
Goodisory A02
Metalfish S2
Metalfish Metal Solid
SKTC A10
15mm thick fans
Lone L5
Lazer3D HT5
J-Hack Pure X
LZmod LZ-A4 A24-V5
Chieftec BU-12B
Reviews
Christian

Verified customer
Installed your heatsink in combination with a copper mod on the memory. Result is insane, 24C lower temperature. Great product, thanks.
jez

Verified customer
Henry

Verified customer
Great produce and excellent install guide on the website. Installed the A2000 heatsink and temperatures reduced as advertised.
Michael Chu
Verified customer
I love this cooler, it was super easy to install and is much quieter than the stock heat sink